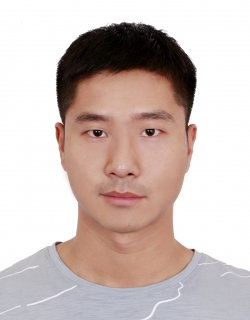 向阳
职位:

博士研究生
教育背景:

西安交通大学(学士)

西安交通大学(硕士)
研究领域

用于辐射制冷和电制冷的功能高分子材料
个人简介:
2014年6月毕业于西安交通大学理学院应用化学系,获理学学士学位
2018年6月毕业于西安交通大学理学院应用化学系,获理学硕士学位
2018年7月-2019年7月在华为技术有限公司担任电池研发工程师
2019年8月加入香港中文大学(深圳)先进材料实验室,进行功能高分子材料相关研究
学术著作:
[1] Guoxin Gao, Yang Xiang, Shiyao Lu, Bitao Dong, Sheng Chen, Lei Shi, Yuankun Wang, Hu Wu, Zhaoyang Li, Amr Abdelkader, Kai Xi*, Shujiang Ding*. CTAB-assisted growth of self-supported Zn2GeO4 nanosheets network on a conductive foam as a binder free electrode for long-life lithium ion batteries, Nanoscale, 2018, 10, 921-929.(co-author with Prof. Gao Guoxin).
[2] Yang Xiang, Hu Wu, Kelvin H. L. Zhang, Mike Coto, Teng Zhao, Sheng Chen, Bitao Dong, Shiyao Lu, Amr Abdelkader, Yuzhen Guo, Yanfeng Zhang, Shujiang Ding, Kai Xi* and Guoxin Gao*. Quick one-pot synthesis of amorphous carbon-coated cobalt–ferrite twin elliptical frustums for enhanced lithium storage capability. Journal of Materials Chemistry A, 2017, 5, 8062-8069.
[3] Zhaoyang Li, Yang Xiang, Shiyao Lu, Bitao Dong, Shujiang Ding, Guoxin Gao*. Hierarchical hybrid ZnFe2O4 nanoparticles/reduced graphene oxide composite with long-term and high-rate performance for lithium-ion batteries. Journal of Alloys and Compound, 2018, 737, 58-66.
[4] Bo Zhang, Chunhui Xiao*. Yang Xiang, Bitao Dong, Shujiang Ding, Yuhai Tang*. Nitrogen-Doped Graphene Quantum Dots Anchored on Thermally Reduced Graphene Oxide as an Electrocatalyst for the Oxygen Reduction Reaction. ChemElectroChem, 2016, 3, 864-870.
[5] Guoxin Gao*, Shiyao Lu, Yang Xiang, Bitao Dong, Wei Yan, Shujiang Ding*. Free-standing ultrathin CoMn2O4 nanosheets anchored on reduced graphene oxide for high-performance supercapacitors. Dalton Transaction, 2015, 44 (43), 18737-18742.
[6]高国新,向阳,何适,吴虎,董碧桃,丁书江. 导电基底负载双金属锗酸盐纳米片的储能材料制备方法[P]. 陕西:CN107195956A,2017-09-22.